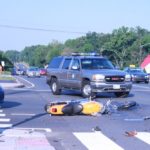 Delaware, also known as 'the first state' is comprised of 3 counties. As Delaware has a relatively mild climate many Delaware residents, travelers, students and tourists enjoy riding their motorcycles throughout Delaware. Even though it is a relatively small state it has a high volume of traffic accidents which include motorcycle accidents. During 2022 there were over 29,000 traffic accidents in DE. Of those, close to 300 were motorcycle accidents with 22 being fatal These numbers are the highest in several decades. If you have been the victim of a motorcycle accident in Delaware, even if you were partly at fault, you need the help of our skilled Delaware motorcycle accident lawyers.
Under no circumstances should you wait to reach out to our Delaware motorcycle accident lawyers for a free case review. They charge no legal fees of any sort unless they recover for you and your family so there is no reason not to call. Our Wilmington motorcycle injury attorneys serve the entire state of DE. This includes Wilmington, Newark, Dover, Middletown, Milford, Millsboro, Seaford, Milton, Georgetown, Lewes, Rehoboth Beach, Delmar, Laurel, Dagsboro & Frankford.
Delaware Motorcycle Accident Facts & Statistics
In Delaware, as all other states, motorcyclists are more vulnerable on the road and are more likely to be injured or killed than car occupants. Delaware motorcycle accidents cost millions of dollars annually. Research shows that these costs come from motorcycle accident issues such as emergency services, medical costs including rehabilitation, property damage, loss of market productivity including lost wages, loss in household productivity and insurance costs, including claims and the cost of defense attorneys.
If pain and suffering is figured in that number increases by millions more dollars spent annually. In Delaware it is rare that a motorcycle accident claim does not have a pain and suffering component.
Injuries Seen In Delaware Motorcycle Accidents
All types of motor vehicle accidents have the capacity to inflict life altering and sometimes fatal injuries. This is particularly true of motorcycle accidents as there is no metal shell to live as with a car. Motorcycles do not have the safety feature of an airbag deploying. As the rider is so physically exposed even an accident at a lower speed can result in road rash injuries, brain injuries (even with a helmet on), spinal cord injuries, amputation and broken bones. Many motorcycle accidents result in accidental death aka wrongful death.
Contact Our Delaware Motorcycle Accident Lawyers
If you have suffered an injury as a result of a motorcycle accident in Delaware please contact our Delaware motorcycle accident lawyers immediately. They will do everything needed to help you obtain the benefits and forms of financial compensation you are entitled to.
The team of Delaware motorcycle accident lawyers at Shelsby & Leoni are former insurance defense attorneys. They bring a level of experience to the table that most injury attorneys do not. They know both sides of accident, injury and insurance laws. They are aware of some of the biases that motorcycle accident injury victims may be up against if your case goes to trial. They will use their experience on both sides fo the law to get you every medical benefit and form of compensation you deserve both now and in the future.
With offices in Delaware and Maryland our Delaware motorcycle accident injury lawyers serve accident victims in Wilmington, Newark, Dover, Georgetown, New Castle, Pike Creek, Hockessin, Fairfax, Talleyville, Smyrna, Middletown, Odessa, Townsend, Stanton, Newport, Elsmere, Edgemoor, Christiana, Lewes, Seaford, Millsboro, Annapolis, Rockville, Waldorf, Bennsville, La Plata, Upper Marlboro, Salisbury, Ocean City, Elkton, Bel Air and Frederick, MD.