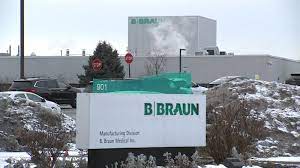 B. Braun is a German medical and pharmaceutical device company. They operate a medical products sterilization plant in Lehigh County, PA at 901 Marcon Boulevard in Allentown. For decades they have been venting ethylene oxide which is an odorless and colorless gas that is an environmental contaminant with serious health implications. Exposure to ethylene oxide can result in numerous types of cancers to those living in and around the Hanover, Allentown and Bethlehem, Pennsylvania areas. Please contact our injury attorneys handling B Braun cancer lawsuits for a free case analysis. No fee unless they recover for you and your family. You can also visit @cancerinjurylawyers for a free case evaluation.
What is ethylene oxide?
Ethylene oxide is an organic compound used to sterilize medical products because it is less damaging to them than other methods. However, it is also toxic to humans and associated with an elevated risk of developing certain cancers. According to the EPA, hazardous air pollutants containing ethylene oxide pollution are responsible for increased cancer risks for more than 500,000 people nationwide.
Ethylene oxide cancer risk
Ethylene oxide has been linked to a number of cancers, including:
Lymphocytic leukemia
Non-Hodgkin's lymphoma
Multiple myeloma
Individuals living near the B. Braun plant in Hanover Township (typically within a 5-mile radius) may be at an elevated risk of developing these or other cancers. Once released by the facility, ethylene oxide can remain in the surrounding air for up to 149 days in the winter and 69 days in the summer, according to the EPA. The compound has a toxicity half-life (the time required to lose half its toxicity) of 211 days.
Ethylene oxide exposure
Exposure to ethylene oxide in Allentown and nearby Bethlehem may result in 600 additional cancer cases per million individuals. Early onset symptoms of exposure include:
Dizziness
Fatigue
Headaches
Shortness of breath
Additionally, EtO is also associated with an increased incidence of miscarriage among pregnant women.
B. Braun's liability
B. Braun emitted 6,800 pounds of ethylene oxide from its Allentown plant in 2014. The next highest emitter in the region, St. Luke's University Hospital, released 17 pounds that year.
More than a dozen people in the Lehigh County area have alleged that they were sickened with brain, blood, and pelvic cancer due to emissions from B. Braun's medical plant. Additionally, wrongful death suits have been brought by the families of three individuals who perished from an illness potentially caused by extended ethylene oxide exposure.
The plaintiffs claimed negligence, strict liability, public and private nuisance, fraud, and misrepresentation on the part of B. Braun for failure to disclose their activity or take reasonable steps to mitigate the emission of a known carcinogen.
The dangers of B. Braun's operations in Pennsylvania were mostly unknown until July 2019, when EPA concerns about the facility were first published. Data analyzed by the agency in its National Air Toxics Assessment (NATA) report found that the cancer risk from ethylene oxide near the plant was more than 200 times the state average.
In response to the report, B. Braun alleged that its emissions were within legal limits but announced plans in November of 2019 to reduce ethylene oxide venting by 99%.
Similar ethylene oxide lawsuits
Throughout the United States the country, injured parties are discovering the danger of exposure to EtO and demanding accountability from polluters.
In the metro Atlanta region, Sterigenics is currently defending six lawsuits from plaintiffs who developed cancer after living and working near medical sterilization plants operated by the company that utilize ethylene oxide. More than 75 similar lawsuits have been filed against Sterigenics in Illinois regarding similar plants.
A factory in West Virginia operated by Union Carbide is also the subject of ongoing litigation brought by a class of plaintiffs that alleges the company knowingly exposed workers and the surrounding region to unsafe levels of EtO for years.
Let our cancer injury attorneys help you
If you or a loved one have been harmed by exposure to B. Braun's facility in Pennsylvania, you may be entitled to compensation. Please contact us now to discuss your potential case at no charge. We will call you within 24 hours to discuss your claim.