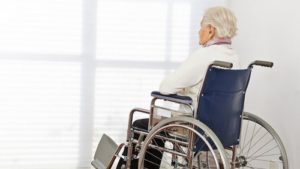 While people are living longer, a rise in age-related illnesses such as Alzheimer's and Parkinson's disease has placed an increasing burden on family care-givers. Many of us turn to nursing homes to provide our parents a caring environment and a professional staff to give them the extra attention they need. Despite being rather small states Delaware, Maryland and Washington DC have more than 500 assisted living homes, nursing homes and skilled nursing facilities combined. Unfortunately, many seniors experience neglect and abuse in Delaware assisted homes, long term care facilities and nursing homes. This abuse and neglect can ultimately lead to serious injury and wrongful death. If this happens, please contact our Delaware nursing home injury lawyers and Baltimore Nursing Home Abuse Lawyers immediately. They possess a wealth of experience handling nursing home abuse, nursing home injury and nursing home wrongful death claims in DC, DE & MD. No fees unless they win for you and your family.
Our Wilmington Delaware nursing home abuse injury lawyers serve all of Delaware, Maryland & Washington D.C.
Bed Sores – Dehydration – Medication Errors – Abuse
If your loved one has died or been abused or neglected in a nursing home, our Newark Delaware nursing home injury lawyers offer a free initial consultation to help you understand your right of recovery. Not all injuries and nursing home deaths are caused by negligence. However, if the facts merit it, our Dover, DE nursing home abuse attorneys will have medical and nursing home records evaluated by experts and interview witnesses to determine if negligence played a role in your loved one's loss or injury.
Understaffed Nursing Home Accidents, Complaints & Abuse
A significant number of accidents and injuries are caused by chronic under staffing in nursing homes. Many residents do not see a doctor regularly. Instead, they may see a nurse who is responsible for multiple patients, many with serious medical needs. In one of our cases, our client fell out of bed and broke her leg. While nurses helped the woman back into her bed, nobody called a doctor, despite her complaints about the pain she was feeling. The woman spent two days in bed with a broken leg before a doctor finally saw her and admitted her to the hospital. Our Georgetown Delaware nursing home injury lawyers obtained a substantial recovery for the woman's pain and suffering.
Types of Injuries Caused by Nursing Home Negligence
Bed sores
Injuries suffered in falls where some sort of fall protection should have been provided
Malnourishment and dehydration
Burns
Lack of monitoring for oxygenation in patients with pulmonary problems
No matter what type of abuse, injury or neglect your loved one has suffered our Delaware nursing home wrongful death attorneys are here to help.
Federal Nursing Home Regulations
Over the course of the last several decades there has been a significant increase in nursing home abuse, injury, neglect and wrongful death cases in Delaware. In addition to Delaware state nursing home regulations there are federal laws as well. In 1987 Congress passed laws which mandate that nursing homes participating in Medicare and Medicaid to comply with certain standard of care rules. This law, known as the Nursing Home Reform Act, states that nursing homes across the United States are to "provide services and activities to attain or maintain the highest practicable physical, mental, and psychosocial well-being of each resident in accordance with a written plan of care." In order to be eligible to participate in Medicare and Medicaid, Delaware nursing homes must adhere to federal requirements for long term care facilities.
According to federal nursing home regulations, Delaware assisted living homes and DE nursing homes must:
Have sufficient nursing staff. (42 CFR §483.30)
Conduct initially a comprehensive and accurate assessment of each resident's functional capacity. (42 CFR §483.20)
Develop a comprehensive care plan for each resident. (42 CFR §483.20)
Prevent the deterioration of a resident's ability to bathe, dress, groom, transfer and ambulate, toilet, eat, and to communicate. (42 CFR §483.25)
Provide, if a resident is unable to carry out activities of daily living, the necessary services to maintain good nutrition, grooming, and personal oral hygiene. (42 CFR §483.25)
Ensure that residents receive proper treatment and assistive devices to maintain vision and hearing abilities. (42 CFR §483.25)
Ensure that residents do not develop pressure sores and, if a resident has pressure sores, provide the necessary treatment and services to promote healing, prevent infection, and prevent new sores from developing. (42 CFR §483.25)
Provide appropriate treatment and services to incontinent residents to restore as much normal bladder functioning as possible. (42 CFR §483.25)
Ensure that the resident receives adequate supervision and assistive devices to prevent accidents. (42 CFR §483.25)
Maintain acceptable parameters of nutritional status. (42 CFR §483.25)
Provide each resident with sufficient fluid intake to maintain proper hydration and health. (42 CFR §483.25)
Ensure that residents are free of any significant medication errors. (42 CFR §483.25)
Promote each resident's quality of life. (42 CFR §483.15)
Maintain dignity and respect of each resident. (42 CFR §483.15)
Ensure that the resident has the right to choose activities, schedules, and health care. (42 CFR §483.40)
Provide pharmaceutical services to meet the needs of each resident. (42 CFR §483.60)
Be administered in a manner that enables it [the nursing home] to use its resources effectively and efficiently. (42 CFR §483.75)
Maintain accurate, complete, and easily accessible clinical records on each resident . (42 CFR §483.75)
Delaware Nursing Homes
Delaware has over 50 nursing homes located within its' 3 counties. Some are local while others are regionally or nationally owned. These are Genesis HealthCare, Manorcare, Cadia Rehabilitation Centers and Delaware Veterans Home among others. Our DE nursing home lawsuit attorneys handle claims against all of these and others in Delaware. Please feel free to connect with our Delaware elder abuse attorneys for a free case analysis.
Contact Our Delaware Nursing Home Injury Lawyers
If your family member has suffered abuse or sustained an injury in a nursing home,please call our Delaware nursing home injury lawyers. We invite you to contact our DE injury attorneys for a free initial consultation. You may also call our office directly at (302) 995-6210.
Our Wilmington, Delaware nursing home injury lawyers serve all of Delaware and Maryland. This includes Wilmington, Newark, Dover, Middletown, Milford, Georgetown, Lewes, Harrington, Hockessin, Pike Creek, Annapolis, Baltimore, Elkton, Bel Air, Towson, Salisbury, Bowie, Upper Marlboro and Rockville.