Whiplash Injury Attorney In Delaware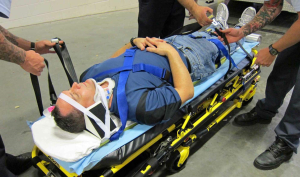 A common type of neck injury sustained in many types of accidents is whiplash. Whiplash is a non-medical term that is typically used to describe a range of injuries to the neck area. Whiplash injuries are caused by, or related to a sudden flexion and extension of the neck and its surrounding structures. If you have suffered a neck injury in an auto accident, workplace accident, a fall or sports accident please connect with our cervical spine injury attorneys serving all of Delaware, Maryland & Washington D.C.
Accidents Causing Whiplash
The most commonly seen type of accident resulting in whiplash is an auto accident, and in particular, a rear end collision. This is primarily related to the mechanics and force exerted upon impact. Other, less common, types of accidents that can induce whiplash are slips and falls, assaults, and amusement park ride accidents. Any movement or accident that strains the neck with sufficient force from behind can result in whiplash.
Signs And Symptoms Of Whiplash
Often times, although not all the time, one may not feel the effects of a whiplash injury for several days after the accident. Symptoms commonly include, neck pain, back pain, stiffness, and aches. One can also feel numbness and tingling in the extremities as well as headaches. Areas of the back most often affected by whiplash are the neck, upper back and mid-back.
How A Delaware Neck Injury Attorney Can Help You
Working with the Delaware Neck and Whiplash Attorneys at the Shelsby & Leoni can help you in many ways. They can determine the true monetary value of your accident claim by examining pertinent factors such as lost wages, medical benefits and pain and suffering. A Delaware Injury Lawyer can also negotiate on your behalf to obtain a settlement. If a settlement is unobtainable a skilled Delaware Personal Injury Lawyer can take your case to trial.
Contact A Delaware Whiplash Injury Lawyer
Call our DE whiplash injury attorneys if you have been injured in an accident due to another's negligence or carelessness. Our firm handles auto accidents on all Delaware and Maryland roads, highways, and interstates such as Route 13, Route 40, Route 2, Route 9, Route 113, Route 4, Route 24, Route 26, Interstates I95, I-295, and I-495.