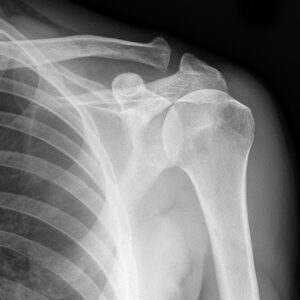 The shoulder, also called the deltoid or shoulder girdle, is a complex joint connecting the upper arm to the torso. The human body has several types of joints and anatomically the shoulder is a ball and socket joint. The actual name of the shoulder joint is the glenohumeral joint and is where the humerus and scapula meet. It is a very movable joint allowing for 360 degree range of motion, adduction, abduction, flexion and extension. The range of motion of the shoulder also makes it very unstable and prone to injury. These injuries can be in the form of assault, falls, auto accidents, sports injuries, school and university accidents as well as workplace accidents. Also, an injury to the shoulder can also become compounded if, during surgery to repair a shoulder injury, a surgical error occurs or there is negligence on the part of the surgeon. No matter how your hurt your shoulder if there was someone else at fault you may be entitled to benefits and financial compensation. Please consider contacting our shoulder injury lawyers serving all of Delaware, Maryland and Washington D.C. They offer free case evaluations and charge nothing if they do not recover compensation for you.
Common Shoulder Injuries & Conditions
Arthritis of the Shoulder
Dislocation or Instability
Fracture
Frozen Shoulder
Joint Stiffness
Rotator Cuff Damage
Shoulder Separation
Bursitis
Nerve Compression
SLAP lesions
Tendonitis
Labral Tears
There are other forms of shoulder injury and during the course of their legal careers our Baltimore, Maryland shoulder injury attorneys have handled these and others. As more often than not an injured joint may never be the same even after your recovery period is over. In very severe shoulder girdle cases you may not be able to return to work ever. The financial instability that comes with an auto accident, work injury or medical malpractice errors can be overwhelming. Let our DE work injury attorneys thoroughly review your case and determine the full value of your case.
Procedures To Repair A Shoulder Injury
Fracture Treatment
Mini Open Rotator Cuff Repair
Shoulder Arthroplasty
Shoulder Replacement
SLAP Repair
Sports Shoulder Treatment
Chiropractics
Physical Therapy
Occupational Therapy
Surgical procedures performed on the shoulder region are usually performed by an orthopedic surgeon as they specialize in repairing bone, joint, muscle and skeletal system injuries. Shoulder injury surgeries can lead to medical negligence lawsuits unfortunately. The more common reasons is that the surgery was performed unnecessarily or something went wrong during the procedure due to orthopedic surgeon negligence and or anesthesiologist malpractice. If you feel you may have been the victim of medical negligence in Delaware, Maryland or Washington D.C. please contact our medical malpractice attorneys handling shoulder surgery malpractice lawsuits. They can be reached in Delaware at (302) 995-6210 or (410) 385-5612 in Maryland and Washington D.C.
With offices in Wilmington, Delaware and Baltimore, Maryland they serve Washington DC, Rockville, College Park, Baltimore, Towson, Waldorf, Dundalk, Catonsville, Randallstown, Bel Air, Elkton, Wilmington, Dover, Lewes & Georgetown.